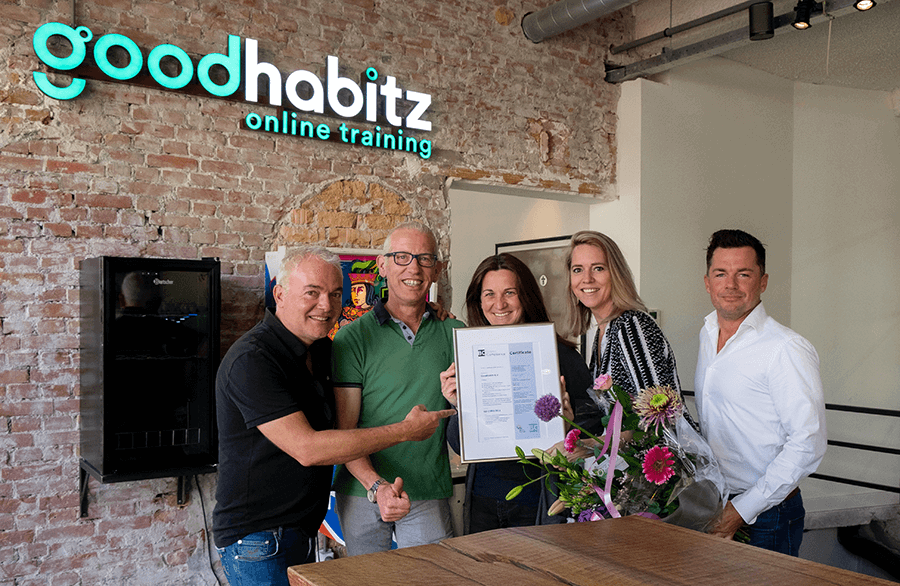 ISO 27001 setzt einen weltweiten Standard für Informationssicherheit, der vom 'International Organization for Standardization' (ISO) festgelegt wird. ISO 27001 spezifiziert die Anforderungen für Einrichtung, Umsetzung, Aufrechterhaltung und fortlaufende Verbesserung eines dokumentierten Informationssicherheits-Managementsystems unter Berücksichtigung des Kontexts einer Organisation. Darüber hinaus beinhaltet die Norm Anforderungen für die Beurteilung und Behandlung von Informationssicherheitsrisiken entsprechend den individuellen Bedürfnissen der Organisation.
Was bedeutet unser Zertifikat für dich?
Die ISO-Zertifizierung ist für uns als Unternehmen von Vorteil, aber wie hilft sie dir?

ISO 27001:2013 garantiert, dass GoodHabitz:
persönliche und Unternehmensdaten angemessen schützt.
Prozesse etabliert hat, um den Schutz der Vertraulichkeit, Integrität und Verfügbarkeit und Sensibilität von Daten zu gewähren.
geeignete technische und organisatorische Maßnahmen in Bezug auf Informationssicherheit ergriffen hat.
Risiken der Informationssicherheit identifiziert, verfolgt, reduziert und überwacht.
einen PDCA-Zyklus zur ständigen Verbesserung von Prozessen und Produkten eingeführt hat.
die EU-DSGVO einhält.
ein verlässlicher Partner ist. 
Geltungsbereich der Zertifizierung.
Als internationales Unternehmen haben wir den offiziellen Geltungsbereich auf Englisch formuliert:
to develop and host the GoodHabitz online content and learning environment.
to market the GoodHabitz brand and product.
to coach and support customers with the implementation and use of the learning environment. 

Wenn du Fragen zur Informationssicherheit oder zur Zertifizierung von GoodHabitz hast, kannst du gerne unsere Datenschutzbeauftragten kontaktieren.