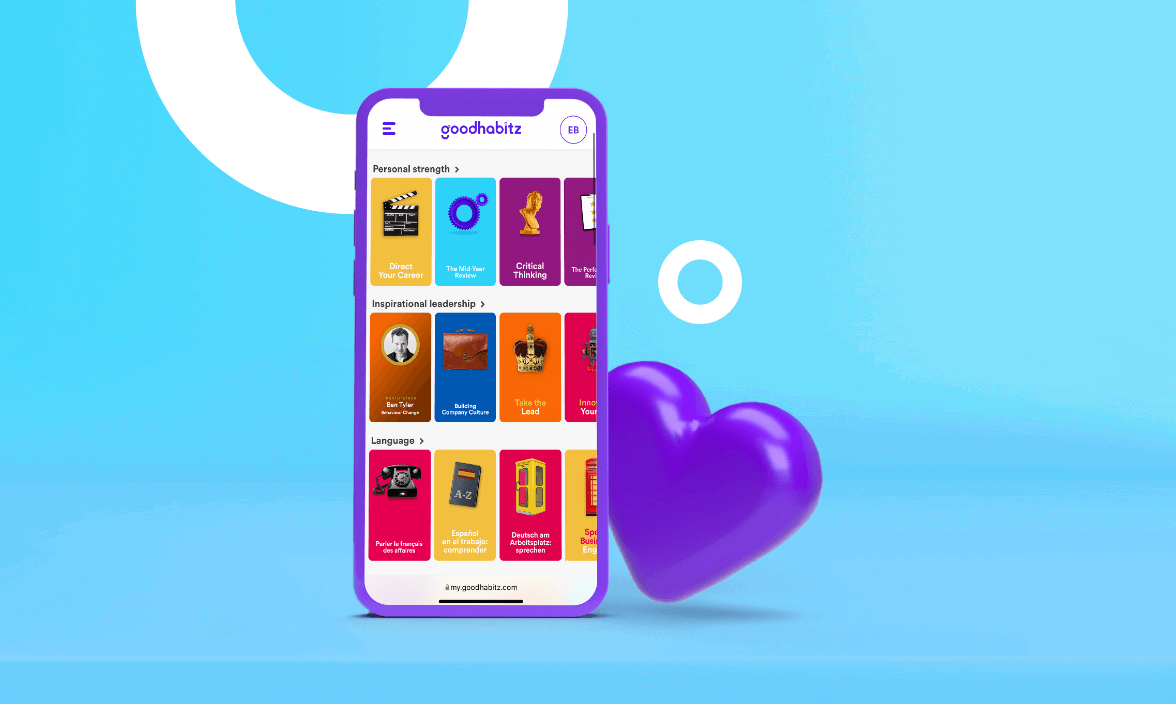 1. Personal development at a distance.
For KLM it is crucial that everyone gets the opportunity to work on their personal development regardless of where they might be in the world. For flight attendants and pilots traveling to different time zones across the globe, personal development needed to be within close access – especially since they have no traditional office to return to.
Thanks to GoodHabitz, KLM could enable personal development courses for everyone within the business, regardless of which flight they decided to take next. A nice bonus was that KLM could also use the library to further develop their personnel who carries out the heavy work in, for example, the baggage basement. Enabling their staff to become multi-deployable and stay within the organisation for years.
Read the full article: How do I stimulate personal development for my remote workforce?
2. Power skills – the skills of the 21st century work force.
The work force is shifting, and employees need more than just the basic hard skills to manage their jobs – they need soft skills, or like how we like to call them: power skills! For BDO, an accounting and advisory firm in the Netherlands, most of their employees possess the right hard skills such as conducting business audits and being able to work with numbers.
Yet, to ensure company growth they also had to be successful when it came to communication, time management, teamwork, and other soft skills. Together with GoodHabitz online trainings, they could increase the social competence within their organisation and focus on optimizing work processes, creating a more power skilled organisation!
Read the full article: Are soft skills crucial to prepare my organisation for the future?
3. More than 25 different learning styles 
Some organisations struggle with having a mix of blue- and white-collar employees, making it difficult to find a personal development training program that would fit everyone's learning need. Aertssen Group, an international business specialised in infrastructure and construction, was one of them. They are based in Europe and the Middle-East.
Aertssen Group from has a big diversity of employees, some working on-site and some working from the office. They wanted to find a learning platform which could empower all their employee types. Thanks to the over 25 learning styles accessible on the GoodHabitz platform, everyone at Aertssen Group could find a learning format that fit their individual need.
Read the full article: How do I take into account all individual learning needs?
4. Language and cultural diversity in your L&D program
Being a big international company comes with many perks, but it can sometimes be difficult to manage employees across country borders. More specifically, manage personal development across country borders.
OTB Group were looking for one online learning solution that could enable their entire workforce to further develop themselves, regardless of the language they speak or their geographical location. OTB is an international fashion group, powering a range of global, unconventional brands, including Diesel, Maison Margiela, Marni, Viktor&Rolf, and Jil Sander.
GoodHabitz online training courses are available in over 15 different languages – and we even make a distinction between cultural diversity. As an example, our German, Austrian and Swiss libraries all have their own cultural examples – even though they all are part of the German language. Thanks to our multinational content library, OTB could enable all their employees to work on personal development regardless of their location in the world.
Read the full article: How do I stimulate personal development across country borders?
5. Creating intrinsic motivation through self testing
Wanting to work on personal development but actually working on personal development are two different things, and sometimes your employees need some encouragement to get going. One of the biggest challenges is to figure out what topic (or topics!) to start with first. This is why we created the GoodScan!
The GoodScan is a self-test that will show your employees how they prefer to learn, where there is space for growth and which of our training courses are the perfect fit for them.
During the first lockdown of the pandemic, H&M decided to invest in personal development for their employees. H&M understood the importance of individual learning and encouraged everyone to use the GoodScan to satisfy their personal development needs. It worked like a charm since it instantly gave learning a personal touch!
Read the full article: How do I activate my employees to get started with learning?
6. Tools to create a learning culture
To stimulate personal growth at your organisation we have developed a framework – the ITO-model. The ITO-model is focused on Individual, Team and Organisational level and will help organisations to create a learning culture. Besides focusing on the three levels, we also offer different tools so your managers can easily set-up preparation and evaluation meetings with their employees.
Everything is provided to you through our own program: PromoStudio. Despite being an online learning platform, GoodHabitz can also be used offline, or like we like to call it: WorkOuts.
WorkOuts is a blended learning format which allows you to use our courses in an offline setting. This is something that online flower webshop bloomon did, where they use questions from the WorkOuts to create deep conversations in an offline environment. Mixing the best from two worlds!
Read the full article: How do I create a successful ongoing learning culture within my organisation?
7. The return on investment of online training is a no-brainer (including a business case)
You're probably facing the challenge of convincing your upper management that investing in learning is worthwhile and worth the requested budget. We know, it's tricky. They are interested in knowing how revenue is made (or saved!) thanks to your L&D activities. We hear you!
We backed all benefits up with market research, and study data, and finally provide you with a business case to show you what you gain and save with online learning. 
Read the full article: How do I measure the return on investment (ROI) of online training?