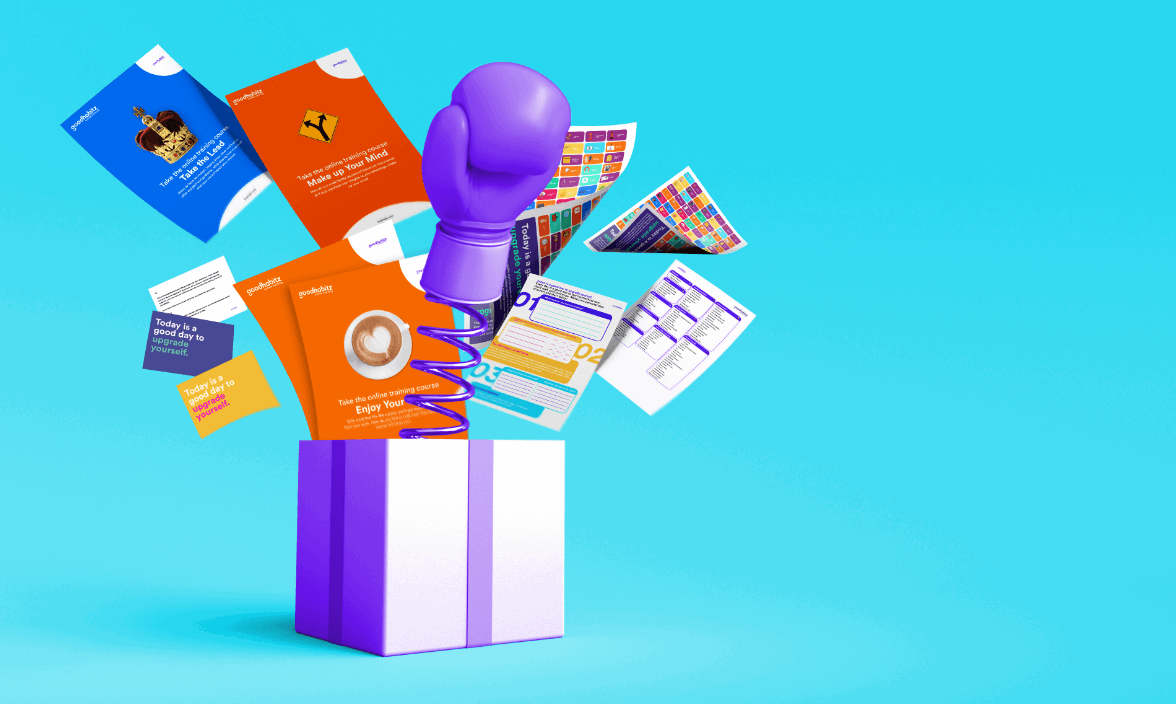 Much more than just training courses
Make learning as fun and easy as possible, that's our mission at GoodHabitz. However, with that mission and our online training courses we want to contribute to your organisations goal as well. Whether you're looking to increase productivity amongst the workforce, lower absenteeism or sick leave or ensure that your employees are more loyal to the organisation by investing in their personal development, or any other goals, we're here to make an impact. How? Well, by finding the right angle to realise your goal. In the end everyone wants to develop themselves, however most of us need a little push in the right direction to take that first step. That's why we create interesting content and campaigns, in order to help you to find the right context and urgency to stimulate action.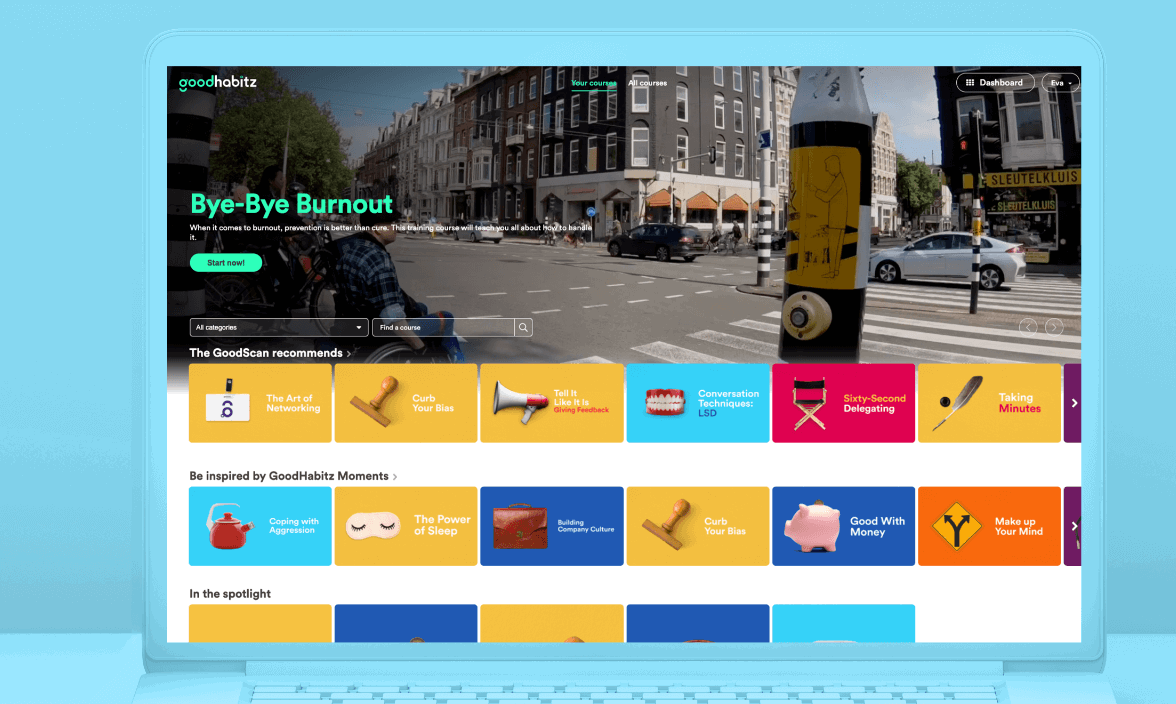 Improved performance management
Performance management is a crucial part of the HR cycle. It allows management and employees to better achieve their goals through a structured process of employee development. Maybe your organisation, just like a lot of others, works with a yearly appraisal talk and a mid-year review after 6 months. Whereas in other companies they have more ongoing talks about personal development between employee and manager. And of course, there are all sorts of performance management check-ins that are in between these examples. For now, we will focus on an ongoing cycle of performance management to give you an idea on how GoodHabitz can help your organisation.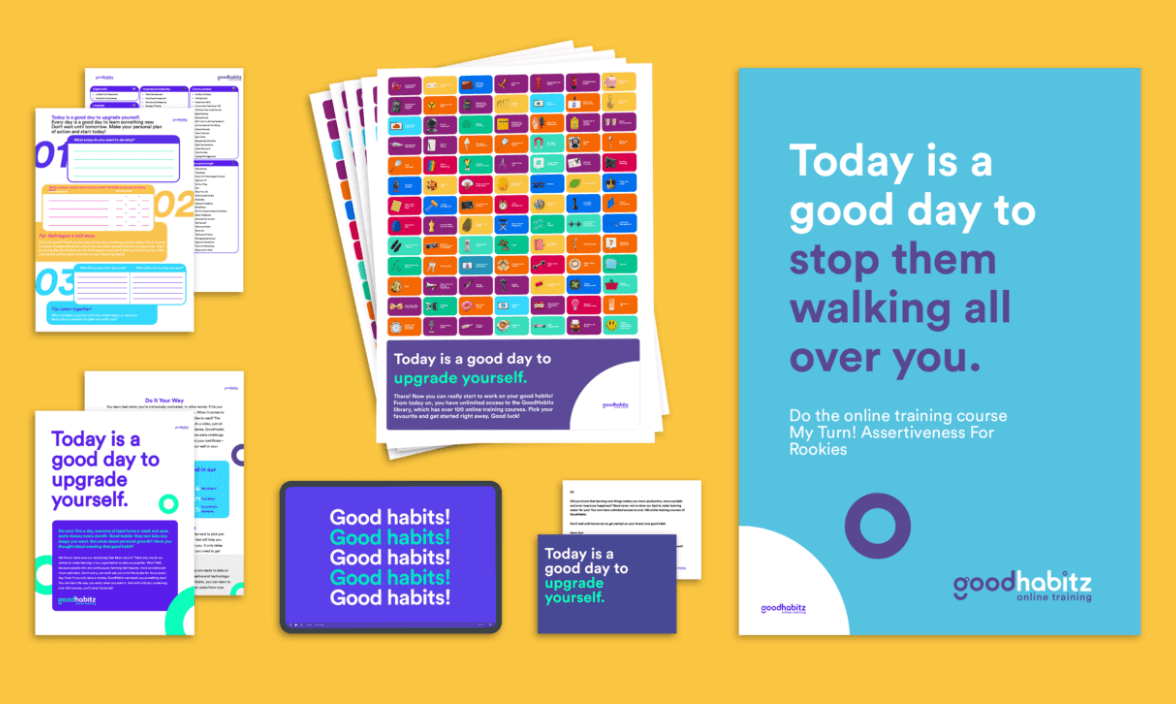 Where to start?
To help you get started with the implementation of GoodHabitz in your performance management cycle we'll take an overall approach. Afterall, GoodHabitz is much more than just great training courses. With tools like Promo Studio and conversation starters we offer you everything you need to get the most out of our partnership. But first things first, let's have a look at all relevant courses. 
The following courses are interesting to use in any performance management cycle. Whether it's an ongoing conversation, more traditional or something in between. 
Performance management reviews

(available later this year)

The appraisal

 (available later this year)

 

Behavioural change

 (available later this year)

 
GoodHabitz for an ongoing performance management cycle.
Though these courses are great as stand-alone content, we feel that tying them all together in an ongoing performance management flow will benefit both your organisation and your employees. Below we created such a flow with 3 phases: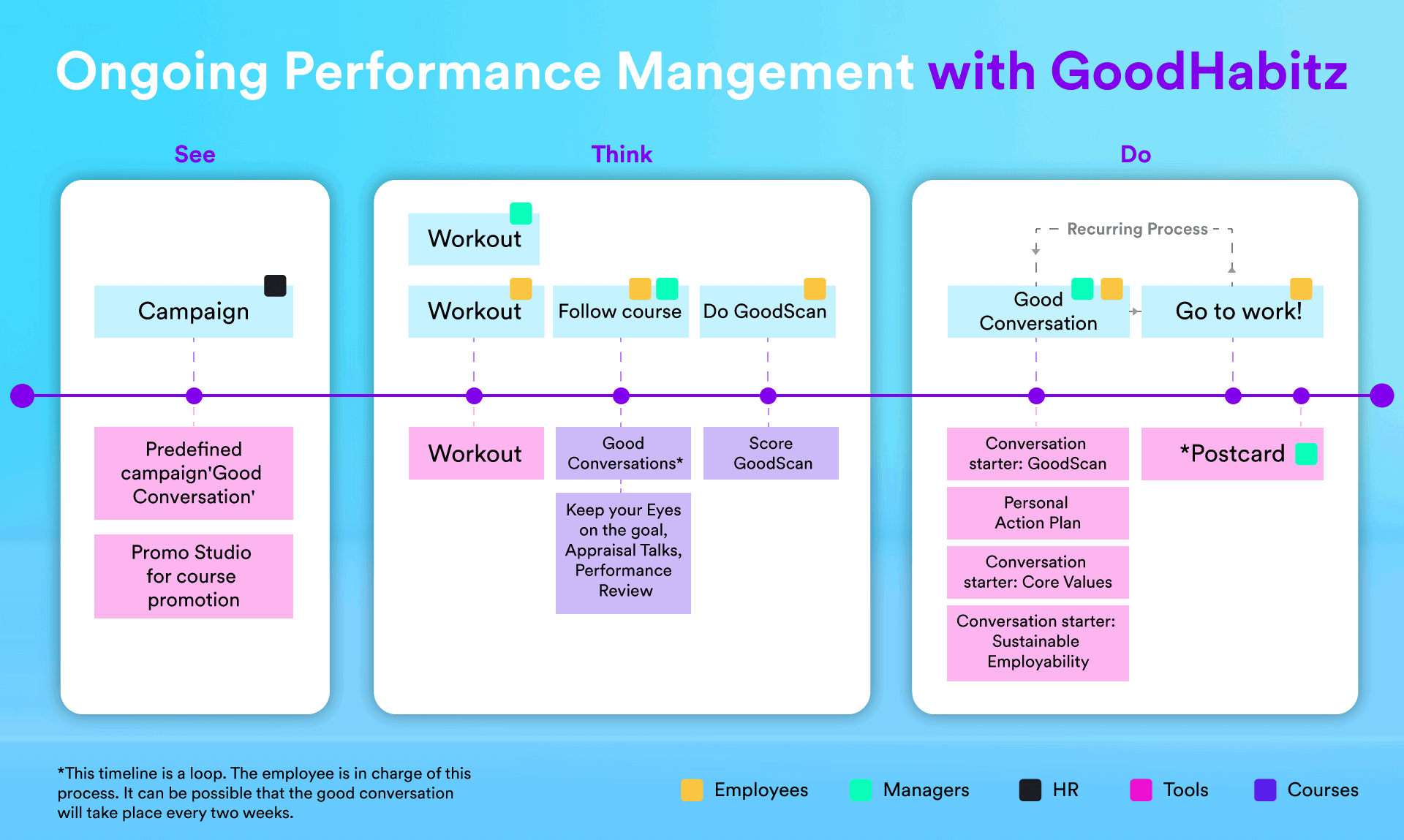 Don't forget, this is just an example. Feel free to customize this flow and the related courses to your organisations cycle.
One step at a time
To help you better understand the performance management flow we created, we are going to walk you through it. Step by step we'll take a look at creating awareness, engaging your audience and having great conversations. 
But before we start, let's quickly check this list of all the things you need: