If you never felt uncomfortable
you'll never grow.
The year 2020 and the current crisis confront us with different challenges: changes in our everyday social life, restrictions on mobility and the impact of digitalization on the work environment. Dealing with such unfamiliar situations and coping with setbacks demands a lot from us.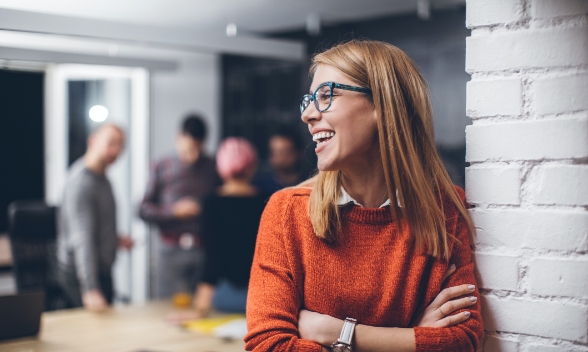 Resilience is not only one of the most frequently demanded characteristics of qualified employees but is also an important prerequisite for mental strength. Good to know: being resilient is something you can learn. In this article you will find several tips for you and your colleagues to boost your resilience by following some of our online courses.
Resilience can be learned
Resilience is about reacting successfully to pressure, coping effectively with setbacks, dealing with changes and challenges, and get up again. With some behavioral changes like goal setting, being optimistic or giving your brain a time out, you keep your strength even when things get rough.
Probably everyone has to face setbacks, but everyone deals with them differently. Some manage not to let themselves be thrown off balance, while others are pulled into a downward spiral. How can this be explained?
Your personality determines to a large extent how resilient you are. An additional factor of how you react to stress is your environment and the support you receive from others. Even if you are not a highly resilient person, there is no reason to give up as soon as you face rejection - because resilience can be learned.  
Handling stressful situations with self-awareness
A crucial factor of how well you can handle pressure is your self-knowledge. Knowing your own strengths and weaknesses enables you to deal consciously with stressful situations. By knowing what makes you feel stressed, you can develop strategies to deal with these situations. Elderly people (65+) generally show a better ability to cope with stress and stand difficult situations longer. This is probably due to the fact that life-experienced people have a better self-knowledge on the one hand and have had to deal with more setbacks on the other hand, which has made them more resilient.
Setting long-term goals is also a good way to strengthen your own perseverance and stand hard times longer. Through setting goals, you actively work towards the relaxation phase. This form of stress is even positive and can drive you to peak performance.
Give your brain a time-out
When was the last time you allowed yourself a daydream? In times of smartphones and notebooks, you are tempted to quickly check your e-mails in the evening and reply to your colleague's message on the way home. And even during a short break we tend to entertain ourselves with the smartphone. By the time we fall asleep, we are still under pressure – which means that our brain also continues to run at full speed. In long-term, however, it's especially your creativity that suffers from this. So, take breaks more often and just simply do nothing. Doing nothing also means staying away from social media - Internet, smartphone and social networks not only distract you from your daily tasks, but also have a considerable influence on your psyche.
By setting yourself an alarm, you can plan specific moments for rest. Meditation exercises might help you to fully relax during these breaks.
Optimists live longer than pessimists
Is your glass half full or half empty? Do you see the blue sky behind the clouds, or do you recognize nothing but a heavy cloud cover? Optimism is a key element for resilience. If you look ahead optimistically, setbacks only affect you temporarily. Let's strive to be an optimist!
Try to avoid negative sentences like "This will go wrong anyway" or "I'll never make it", because negative thoughts create a negative reality. Make yourself free from them and recognized them as thoughts. The same applies the other way around: With positive thoughts you can actively influence yourself and, thus, be more goal oriented. Sounds too optimistic for you? Well, this phenomenon is scientifically proven and is called the Rosenthal Effect. It is based on a socio-psychological study that says that positive expectations influence your performance.  
Feeling connected gives us strength
Your personal environment and the support you receive from others have a significant impact on your resilience. However, digitalization is changing our communication forms considerably. For this reason, it is important that you are able to have good conversations and work on ways to communicate with your employees actively. A conversation is not just a conversation – a good conversation requires honesty when talking about expectations and goals, and both sides should show interest in the other.
Also, your private environment and the support of the persons close to you have a significant impact on how you feel. Especially in periods where we spend a lot of time at home, feeling connected and having good conversations makes it easier for us to deal with changes. People who are socially intelligent feel better in relationships – and that makes us in general healthier.
We at GoodHabitz can hardly wait to start the new year! Besides new year's resolutions like getting in shape, giving up cigarettes and reading more, let's boost our resilience with these tips.
Want to know more? Take our online training course "Game On!" and see how we might help otherwise.
Want to be the first one

to read our latest blogs?
Great! Sign up for our monthly newsletter and receive the latest blog articles directly in your mailbox.