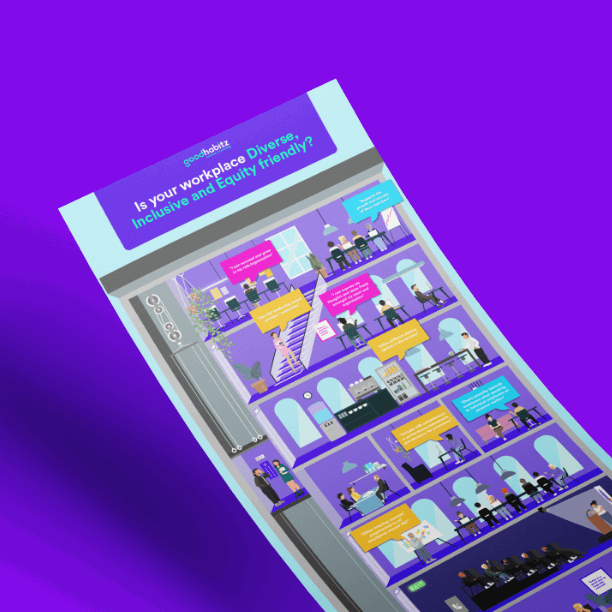 Looking beyond what we know
When we think of Diversity, Inclusion and Equity, race, gender, age, and sexual orientation usually come to mind. These aspects are a huge part of this topic, but there are also other factors that can shape and influence and create a diverse, inclusive, and equal environment as well, especially in the workplace.
These questions are intended to help you start thinking about Diversity, Inclusion and Equity in a way that maybe you haven't thought of before and think about some ideas or processes that you could implement within your organisation.
As an HR manager, you may be wondering where your organisation place could be in all of this. We've broken it down using our beloved ITO model. Take some time to read through the questions, discuss it with yourself and your teams and use this as your guide to start your next steps with Diversity and Inclusion, whether you are starting from scratch or already working on it, there is no bad time to make an impact with Diversity and Inclusion!
The Individual
As an individual, you are the foundation of any organisation, no matter what your position is. It is an added benefit that you feel that you are in a workplace that provides you with a safe space to be yourself, freely share your thoughts and ideas (even if others don't agree), and that you feel a sense of belonging to both your team and your organisation.
The Team
A team is nothing without individuals, so a lot of what you asked yourself on an individual level plays a role at the team level as well. For managers, it is also important that when leading and guiding you team in their daily tasks, you remember to empathise with your team and encourage their growth, both personally and in their job. As a manager, it's important to make sure that you team feels that they are being seen and heard.
The Organisation
Our workplace is often the place where we spend most of our time aside from our home. With that in mind, organisations should be thinking about what kind of environment they are providing for their staff, whether it be offering various dietary options for individuals, or providing special access to those with a disability or ensuring that all members of the organisation have the tools and resources to further themselves in their role. An organisation should consider the various factors that it can have a change and effect on to make the workplace an enjoyable and productive experience for all employees.
Where to next?
Now you've asked yourself the questions, thought about where you, your organisation and your team fit into these and how they approach these questions, what next? Well, like most initiatives, it can take time to get the ball rolling and we know that Diversity, Inclusion and Equity is a huge topic. Small steps are sometimes the best way to start. Now that you have done the checklist and identified some places that you may be lacking, it may be in your best interest to send out a survey to your organisation. This is a great way to get the pulse of what you organisation knows about this topic, if anyone has certain sentiments or personal experience when dealing with this and how they feel about this. You may be surprised to see what you learn. You may think there could be an issue in one area, when in fact it could be something else requiring more attention. At the end of the day, your organisation is made up of employees and without them, you can't go forward.