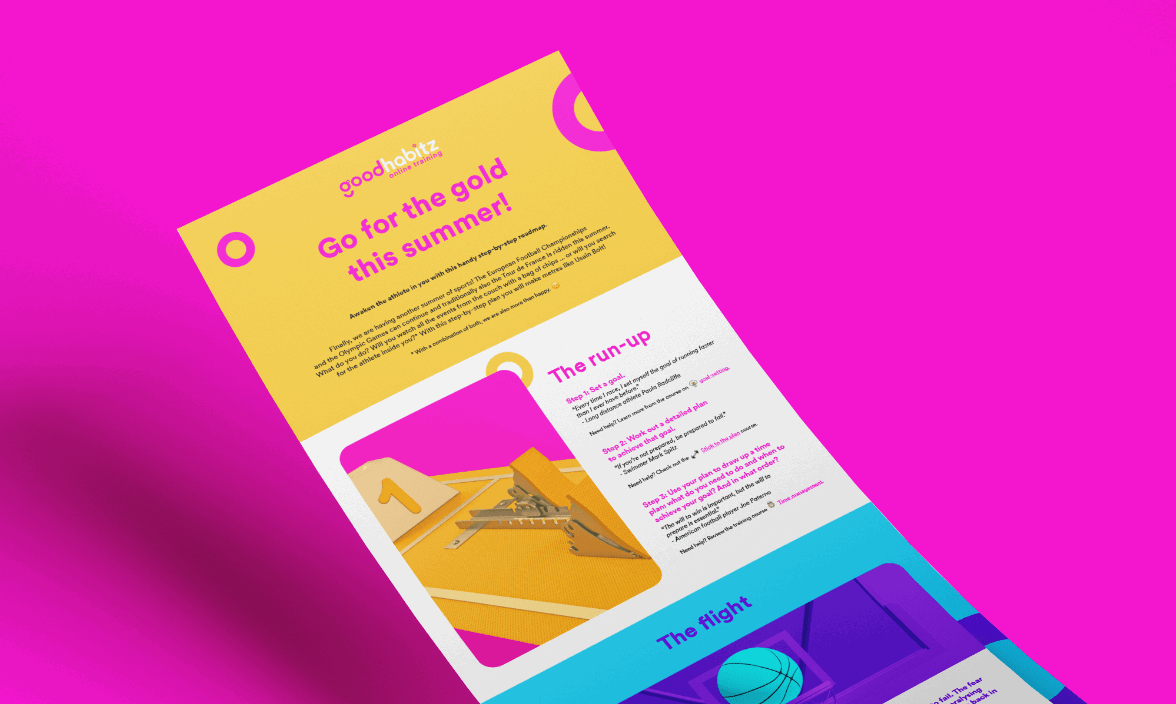 624 footballers, 170 cyclists and 11,091 (!!!) Olympic athletes have been preparing for this summer for the past few months, and for some, even years. All with a razor-sharp goal in mind: a trophy cup over their heads, a yellow jersey or a podium finish. Gold! Not entirely coincidental, there are many top athletes in our online training courses. That's because there is so we can learn from their discipline, dedication, self-confidence and absolute will to be the best. However, the difference between a top athlete and you don't have to be that big: whether you want to win gold in the 100-metre sprint, successfully complete a complicated project or have a coveted management position in your sights, often the exact same skills will bring you to that goal. We distinguish three phases: the run-up, the flight and the jump-off. .
The run-up
There is something paradoxical about preparing for four years for a moment that sometimes lasts only a few seconds. Yet for many athletes, the big tournaments are the climax after years of preparation. It all starts with formulating a goal. Sometimes the goal has already been reached by reaching the Olympic Games, for example - after all, participating is more important than winning - but often sportsmen and women know exactly what they want to achieve. A gold medal, a top-five ranking or setting a personal record. Then the meticulous process of mapping out the route to that goal begins: training and nutrition schedules are drawn up and a long period of polishing, sanding and grinding begins.
No goals? Then you run the risk of working or living like a headless chicken.
Ask yourself: do you regularly set goals for yourself? At work or in your private life? You should, because only when you have set concrete goals – formulated in a SMART method - are you able to work in a goal-oriented way. In fact, if you don't set yourself any goals, you run the risk of working or living like a headless chicken. Do you know what you want to achieve? Then the next step is to develop a campaign plan: you formulate the steps to be taken and describe what is needed to achieve your goal. We show you in block 1 of this step-by-step plan how to do this.
The flight
How do you explain that Lionel Messi and Cristiano Ronaldo are at the absolute top of the football world year after year? Talent, is usually the response. And that is true. But there is another important factor: they can turn on excellence at the very right moment. Their whole life is centred around the next match and when the time comes, they have the focus, determination and mental strength to dominate. Okay, you probably don't play in packed stadiums every week, but you will regularly find yourself in situations where you simply must deliver. Things like focus, drive and dedication are trainable: you can get better at them by investing in them. It is just that small difference between a flawless presentation and a single spelling mistake. Between meeting a deadline and being just a little bit late. Between a ball in the net or hitting the post. Look at block 2 of the step-by-step plan and take the steps necessary to deliver a top performance.
Celebrating successes provides team building and is the basis for new successes.
The jump off
And then? Is it all over after the final whistle? Of course not. A game won is celebrated extensively - after all, celebrating successes builds team spirit and is the basis for new successes. And after every match – win or lose - there is an evaluation: what went well? What can be improved? Do we need to adjust the course taken? Should we perhaps formulate new goals? The most successful sports teams are those in which people dare to be critical of each other and in which team members constantly give each other feedback. With block 3 of the step-by-step plan, you take stock: how did I perform and what can I learn from it so that I can do even better next time? And that process is endless, as former wrestler Dan Gable says: "There is always a way to motivate yourself for the next level. Write and dream about it. Then turn it into reality and don't get stuck in a dream." Inspired? Turn your dream into a goal. And give your goal a deadline. Download our roadmap and awaken the gold medallist athlete in you!