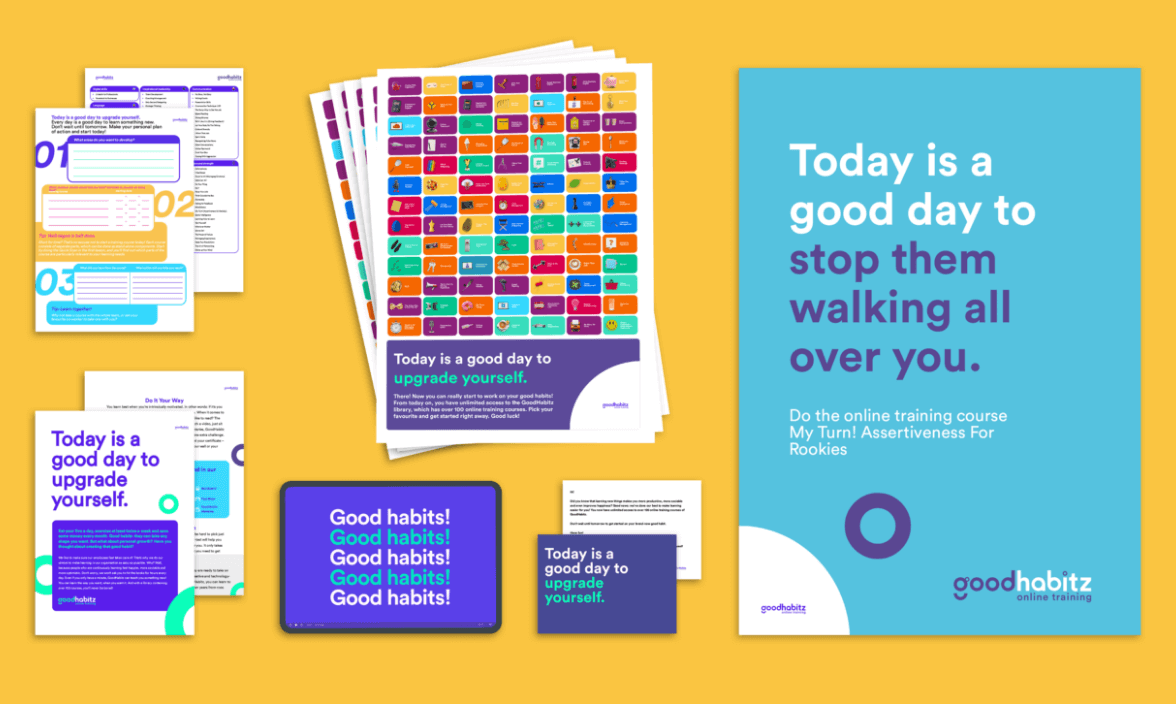 You will find the Kick-Off Campaign in the Promo Studio, in the category 'standard campaigns'. This is a set of communication tools with which you bring GoodHabitz to the attention of your employees both online and offline. We guide you through it step by step.
The pre-selection
You will notice that we have pre-selected several training courses and articles. You are, of course, free to modify these, but we would like to mention that we believe this mix of courses would best suit your kick-off. We believe in a multi-channel approach and with this combination of tools, you will reach your employee best.
Before-During-After
We have opted for a three-way split of the campaign: before, during and after. Because a few weeks before your kick-off (the moment at which everyone receives an invitation to activate their account) you want to tease your employees that something cool is about to happen. On the day of the activation, you obviously want to make a grand entrance. And in the weeks thereafter, you also hope to keep the enthusiasm for personal development sky-high. The names of the posters, videos and e-mail texts tell you what they are for: teaser (before the launch), kick-off (during) and follow-up (after).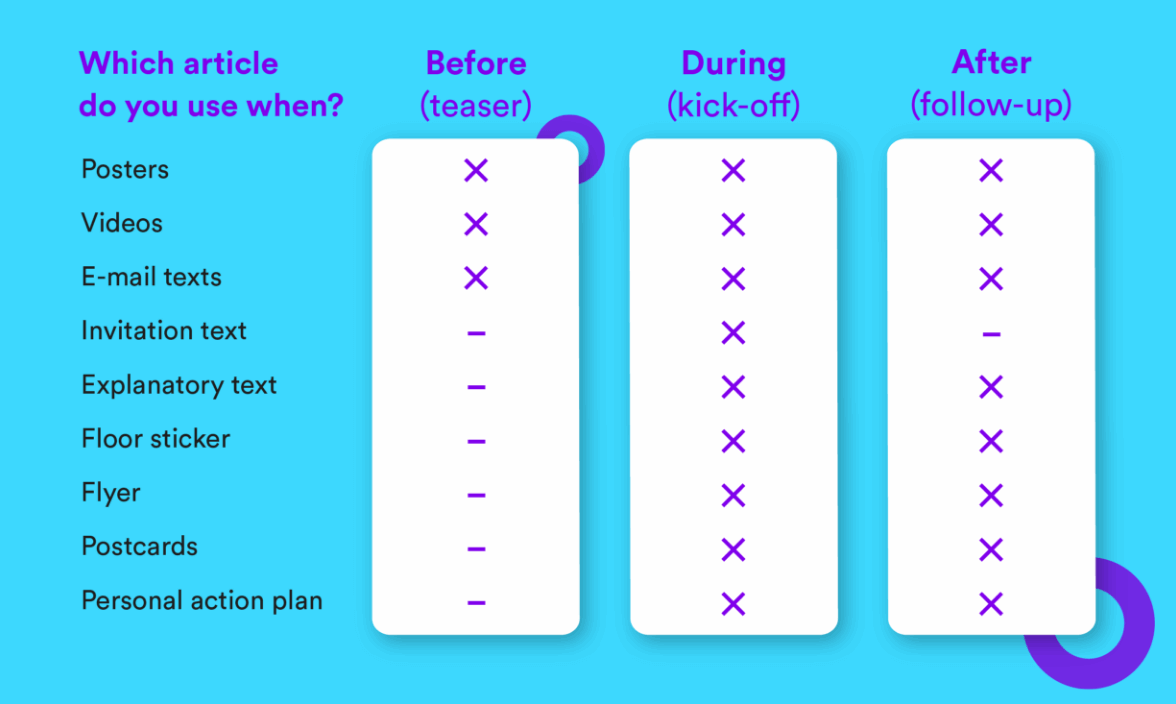 What is the purpose of each tool?
At first glance of the diagram above, we must admit: it is a motley collection of communication tools. But it is not just a mishmash. Each tool has its own purpose and function, and it is their combination that makes GoodHabitz unmissable to your employees. A brief explanation of each tool:
Posters
The posters can be used online and offline. A few weeks before the launch, you can hang the teaser poster near the coffee machine or place it on the intranet. On the day of the launch, replace it with the kick-off poster, revealing that everyone has immediate access to GoodHabitz. A few weeks later, choose the follow-up poster to motivate your employees to get started.
Videos
Use the videos in the same way: the teaser in advance, the kick-off from the moment everyone has access to GoodHabitz, and the follow-up to remind everyone a few weeks later. Post the videos on the intranet, send them by e-mail or show them on the screens in the company restaurant (as soon as people can have lunch there).
Various texts
These texts are delivered in ready-made e-mails, but you can easily copy and paste them for other purposes - to encourage people to activate them. Here too, the order is teaser, kick-off and follow-up. In addition, we have added a more detailed explanation and an invitation text (for the e-mail to create a GoodHabitz account).
Floor stickers and flyers
We want your employees to know that GodHabitz will now be available to them. Therefore, it's key to be as visible in as many places as possible. Print out the floor stickers and stick them in the corridor, in front of the coffee machine or in the lift and put a stack of flyers on the reception desk.
Postcards
Do you know who plays an essential role in the development of your employees? Their manager. When an employee's attention is drawn to GoodHabitz or a specific training course by their manager, that is a direct call to action. The threshold to start working on personal development is immediately lowered. Ask managers to send a personal card to team members. Small effort, big gain.
Personal action plan
Are managers in your organisation convinced of the benefits of GoodHabitz and would you like to offer them some more practical tools? Then point them towards the 'personal action plan': the ideal tool to start a conversation with an employee about personal development. You can also immediately make concrete agreements about learning objectives and training courses.
And now?
You only get one chance to make a first impression. That is why it is important that you immediately strike the right chord with your employees. With the above combination of resources, you ensure that GoodHabitz becomes and remains top of mind. We advise you to prepare the launch in detail, of course with the help of your coach. Do you want to bounce new ideas or tweak what is already available? Your coach will be happy to think along with you.
Everything is adaptable.
It goes without saying that we have done everything to make all communication as attractive and inviting as possible. Yet it may be that the tone of voice does not quite suit your organisation. Or you might want to add something in terms of content. Don't worry, it's possible! All texts in the communications tools can be adapted, the type of training courses mentioned in the tools can be modified and in many cases the colour scheme can also be changed. That way you can create a perfectly tailored campaign, precisely fitting your organisation.