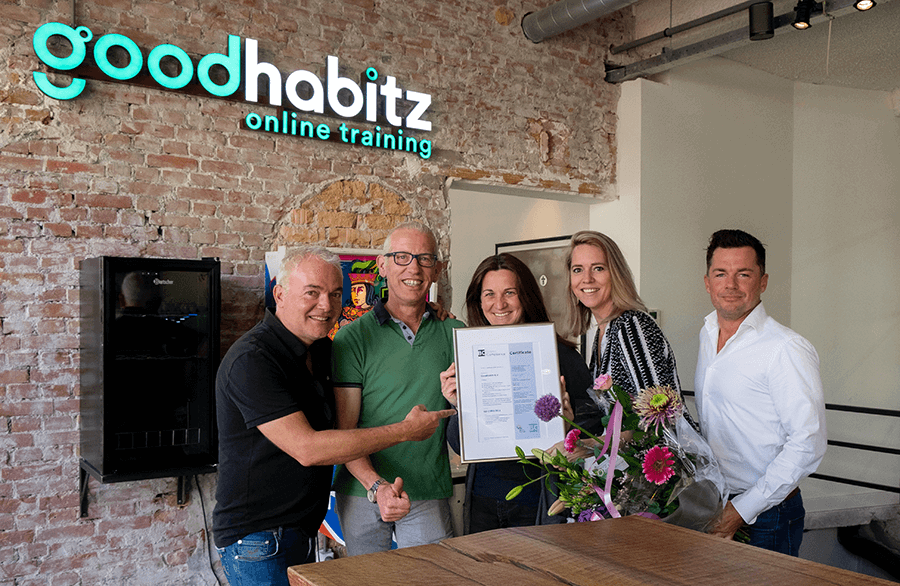 ISO 27001 is een wereldwijde norm voor informatiebeveiliging, opgesteld door de International Organization for Standardization (ISO). De norm stelt duidelijke eisen aan het vaststellen, implementeren, uitvoeren, controleren, beoordelen, bijhouden en verbeteren van een gedocumenteerd managementsysteem voor informatiebeveiliging. Wanneer een organisatie voldoet aan die eisen, zijn adequate beveiligingsmaatregelen gewaarborgd.
Wat betekent dat voor jou?
De certificering brengt veel voordelen met zich mee voor GoodHabitz, maar wat betekent het concreet voor jou als belanghebbende?
De ISO 27001:2013 certificering garandeert dat GoodHabitz:
persoons- en bedrijfsdata optimaal beveiligt;
processen heeft ingericht die de beschikbaarheid, integriteit, vertrouwelijkheid en bescherming van informatie waarborgen;
adequate technische en organisatorische maatregelen t.a.v. informatiebeveiliging heeft getroffen;
risico's t.a.v. informatiebeveiliging identificeert, opvolgt, reduceert en controleert;
het PDCA-concept (continu verbeteren) heeft geïntegreerd in al haar processen;
voldoet aan de eisen van de GPDR;
een betrouwbare partner is.

ISO27001 informatiebeveiliging gaat verder dan alleen de beveiliging van persoonsgegevens. Het richt zich op alle bedrijfsinformatie en gerelateerde processen die vallen onder de scope van de certificering.
Scope van certificering
We zijn een internationale organisatie en daarom is de officiële scope van ons certificaat in het Engels geformuleerd. Onze scope luidt:
To develop and host the GoodHabitz online content and learning environment;
To market the GoodHabitz brand and product;
To coach and support customers with the implementation and use of the learning environment.
Heb je een vraag over onze informatiebeveiliging of de certificering van GoodHabitz? Neem dan contact op met onze Security Officers.