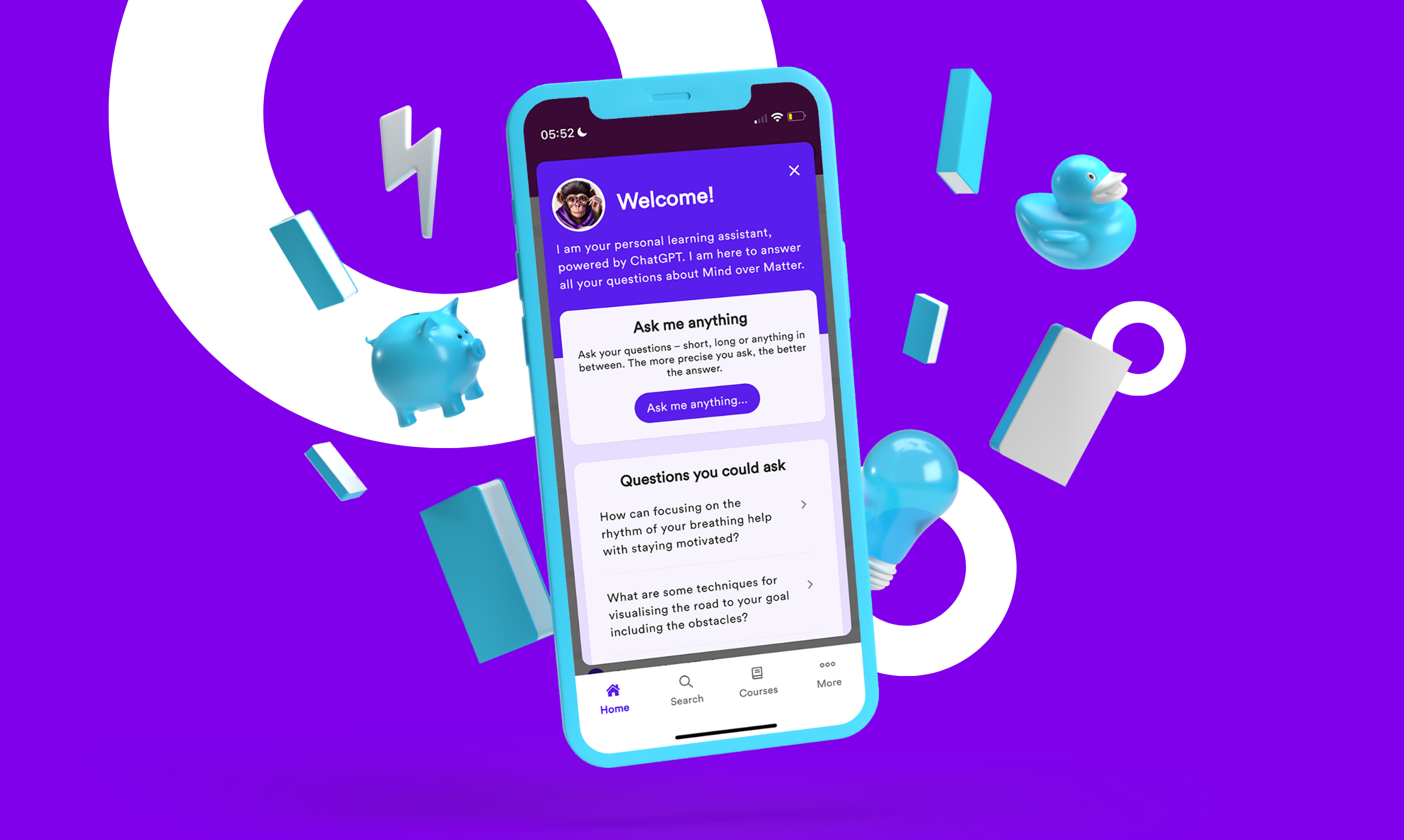 A modern learning experience.
The evolution of learning and technology is an ever-going process which in the last years has taken the world by storm! From traditional classroom learning to online training, and now with the latest developments with artificial intelligence. With today's AI capabilities, such as ChatGPT, even more doors are opening in the learning space.
"The way people want to learn is changing. And it's up to us as learning experts to stay ahead of the curve and adapt to these changes. Having an engaging, relevant and personalised learning experience is becoming more crucial than ever. And with our integration with ChatGPT, we at GoodHabitz can now offer that, creating an entire new level of learning that has not been possible before", says Erik Wiersma, CPTO at GoodHabitz.
Through integration with ChatGPT, our learners will get an even more personalised learning experience, boosting both engagement and interactivity with the means of generative AI. In this product update, we're enabling selected clients to experience three brand-new features: 'Quiz Time', 'Personal Learning Assistant' and 'Drive to Sell' - all powered by the latest and most powerful AI technology.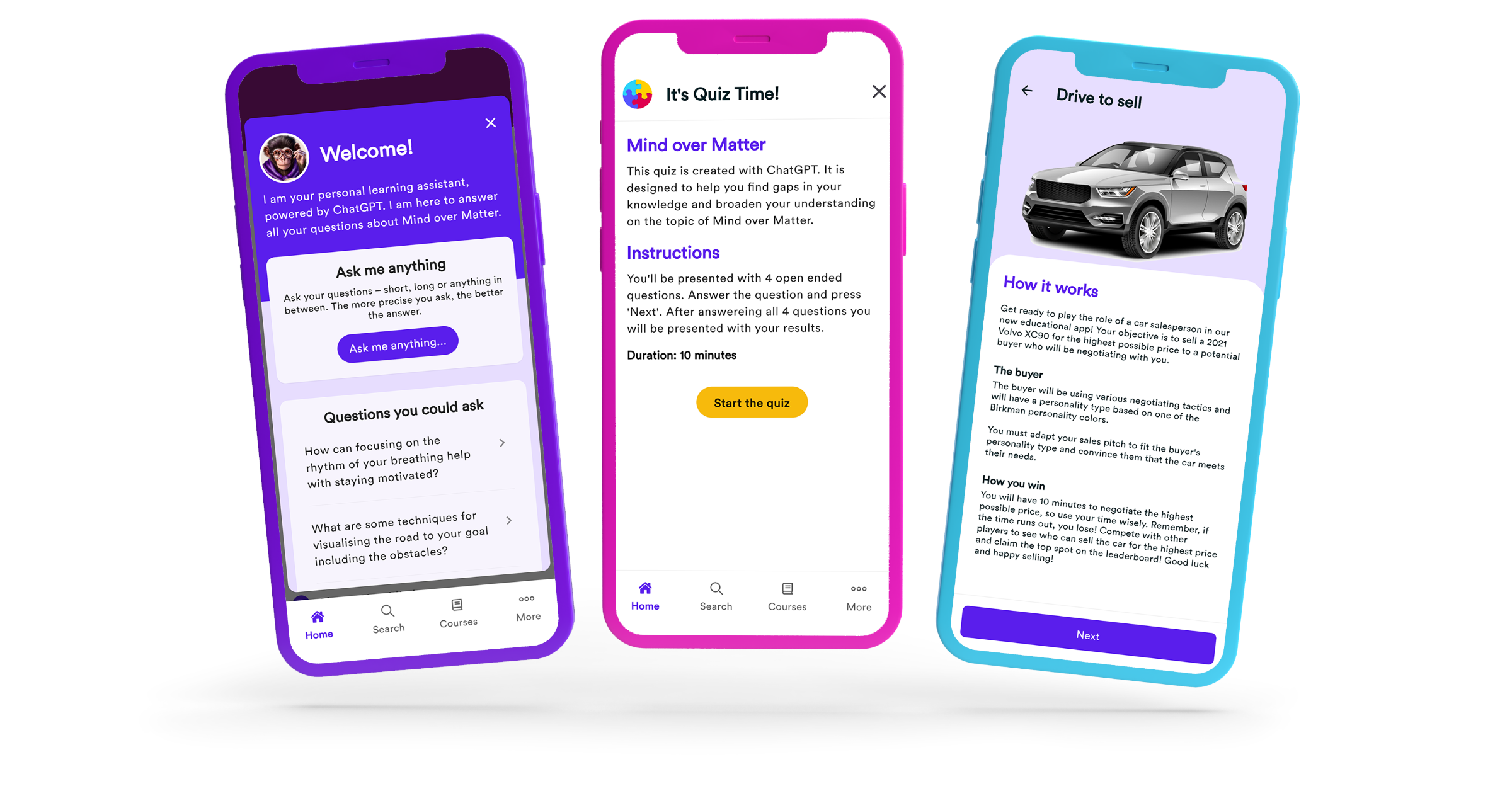 Presenting 3 new features powered by ChatGPT.
Let's take a closer look at the brand-new learning features at GoodHabitz.
Quiz Time is an interactive 10-minute test which is designed to help your employees find gaps in their existing knowledge and broaden their understanding of a particular topic. Your employees will be presented with several open questions, which will be followed by suggestions on the activities they should focus on, as well as what steps they should take next.
The second feature that we'll be rolling out is the Personal Learning Assistant. This is a GoodHabitz course expert that will boost the existing course content and enhance your employee's learning journey. This assistant will answer your employee's questions on a certain topic, as well as provide them with suggestions on how they can make the best use of the course. And your employees don't have to worry about asking too many, or awkward, questions - the Personal Learning Assistant doesn't mind! It'll be right by your employees' side while they navigate through our educational library, answering all their burning questions.
The third and last feature (for now!) is 'Drive to Sell'. This is a simulated roleplaying exercise where your employees will be approached with a car sales negotiation conversation as part of a learning activity in our course 'Consultative Sales.' In this activity, ChatGPT will take on the persona of one of the four of Birkman's communication colours: red, blue, green or yellow. Depending on the persona, your employee will have to adjust their approach and communication style, teaching them how to communicate with various personality types that they encounter in their daily life or at work.
For now, the features will only be available on mobile devices.
Gradually introducing the features to the world.
This is just the beginning, as we're excited to continue bringing new features and ways of learning to all of our students across the world! As of right now, we're only rolling out the features to some existing clients in our database, but we're expecting to give everyone access by the end of this year. We are always working on evolving and developing the features within our product, based on input from internal testing and our early adopters.
If you want more information about this product update or are wondering if you're eligible to try one of our new ChatGPT-powered learning formats, please reach out to your GoodHabitz coach or contact the AI-team at ai-team@goodhabitz.com